New Stockton Location
We are so excited about this opportunity to open our Stockton location! We have moved inside the Cedar County Health Complex out on Owen Mill Rd. At this time, we are offering WIC services by appointment through this office, but we look forward to adding additional services soon. We are still in our El Dorado Springs location, so if you have any questions, come see us or feel free to call us at (417) 876-5477.
NOW HIRING WIC CERTIFIER: The Cedar County Health Department is accepting applications for a full-time WIC Certifier the pay is $14/hr.

Please call the the health department at 417-876-5477 to request an application.
Buckle Up Phone Down:
Thank you to the Cedar County Memorial Hospital for giving the Cedar County Health Department a space to put up this billboard for Texting and Driving Awareness.
Over the next five years, the Cedar County Health Department will promote Buckle Up Phone Down as part of their work with the Maternal Child Health Services through the state of Missouri. They have chosen this program due to the dangerous epidemic of texting while driving that strongly increases the risk of everyone on the roads. At any given moment, 660,000 drivers are using a cell phone while operating a vehicle. Every year, about 400 fatal crashes are caused by texting and driving, according to the National Highway Traffic Safety Administration's (NHTSA) 02/16/2022 article, Texting and Driving Statistics 2022. Our goal is zero deaths on our roadways. You can save your life and others by practicing these two simple measures. Buckle Up and Phone Down
No Joke Totes!
In our society, getting a driver's license is a milestone in life. It is exciting! However, we frequently fail to stop and think just how dangerous driving can be when we are careless and choose to allow distractions while we drive and/or choose not to obey simple traffic laws. The Cedar County Health Department is working under a Maternal Child Health grant to help decrease childhood injury through encouraging safe driving practices. One of our activities was to give the sophomores of Cedar County bags with safe driving tips and items with safe driving messaging, "No Joke Totes". On 11/01/2022 we were at the El Dorado Springs High School and had a short discussion of safe driving practices with sophomores in five different history classes and gave out a total of 99 "No Joke Totes". On 11/08/2022 the Cedar County Health Department had a short assembly with the Stockton High School sophomores discussing safe driving practices and gave out 79 "No Joke Totes". Later that day, we talked with five sophomores and gave them each a tote at the El Dorado Springs, MO Christian School. The Cedar County Health Department looks forward to working with county to help keep our children safe. (Pictured First: Hollee Waller, RN & Kelly Bryson, Principal of El Dorado Springs Christian School) (Pictured Second: Hollee Walker, RN & Jim Flora, Principal of Stockton High School) (Pictured Third: Hollee Walker, RN & David Rotert, Principal of El Dorado Springs High School)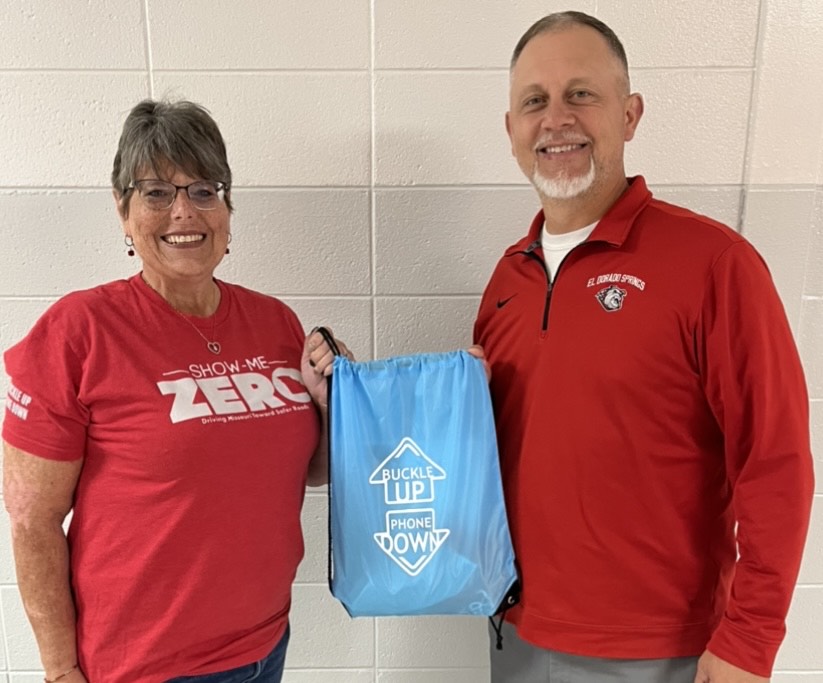 COVID-19 Data Reports: